5 Enterprise Features Our Users Love
Being an enterprise-oriented platform, we do our best to listen to Iridize enterprise customers and address their needs. It comes as a small surprise that enterprise needs differ from what SMBs or mid-range companies' users require. This can mean a whole different level of security requirements or a variety of features that allow training teams to efficiently control onboarding programs for thousands of users. And that's only the beginning.
From conversations with customers, we learned that at least in 2018, some features are particularly loved by technical communications and product professionals in enterprise companies. Here they are:
Error Prevention
One of the greater challenges in CRM or ERP data input is the moderation of human input errors. When several hundred or thousands of users enter information into systems on a daily basis, there is no humanly possible way to track the mistakes, typos, misspelled emails and wrong figures.
Iridize's content validation feature allows moderators and database admins to reduce some of the more avoidable mistakes. For instance: ensure only numbers/letters are being entered into certain fields; limit the number of figures in phone-number fields;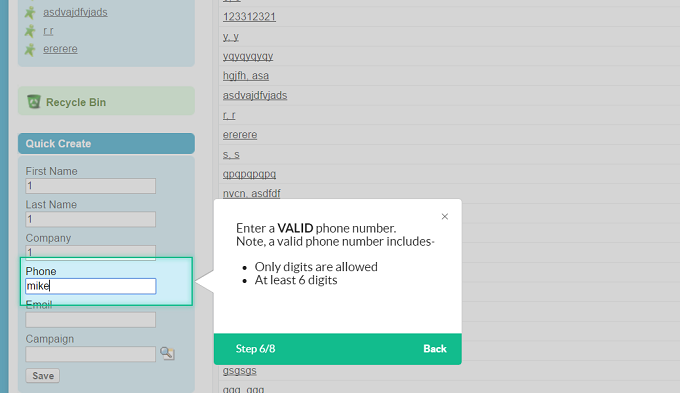 Collaboration and User Permissions
When more than a handful of people are involved in the training process, it's time to organize user permissions. Our Roles, User Permissions and Audit Trail allows Iridize admins in organizations to manage permissions, ensure a steady workflow and protect the guides you worked so hard on creating from accidents.    
For instance – for C-level management, who are usually less involved in hands-on guide creation – you can create a viewing account that is focused on analytics and reports. You can assign colleagues as Editors and invite them to collaborate. There's also an audit trail function that reveals every actions guide creators have made on  guides.
Accessibility Regulations
Iridize meets most government accessibility regulations, in accordance with Section 508 (US) and WCAG 2.0 (EU). This is especially meaningful for government providers and public sector organizations.
While many websites and systems have been adapted to meet accessibility requirements – in many cases support material has not. In order to meet the full requirements, screen readers also need to be able to read support material. Currently, Iridize is the only walkthough training platform that meets this requirement.  
Timed Guides
Timed guides are a special favorite of some of our power-users. A creative training professional can come up with a hundred different ways to utilize this feature. Here are some of the more common practices:
Wait for a page to fully load – helpful especially in heavy systems and huge databases, where Iridize can sometimes load more quickly than the actual system

Measure if a user has been idle on a certain guide for too long and launch a "rescue" guide offering assistance

Create quick multiple-choice or action quizzes with limited time options to gamify learning and add some fun to the mix
Embedding external content
By the time most of our customers start using Iridize, they've aggregated piles and piles of help documentation and support materials: knowledgebases, FAQs, PDF directories, videos and so much more. In some cases, Iridize can successfully replace those materials. In other cases, using Iridize to display old content is an even better solution.
In addition to embedding all sorts of media in live guides (images, GIFs, videos and so on), Iridize makes it really easy to browse your existing support material. Essentially, that means bringing your knowledgebase or help center into the platform your users are working on. 
This achieves several objectives:
Your users stay in-app. Instead of sending them to some forlorn knowledgebase in a remote tab and hope they won't give up half way through, you can bring the search inside the up (in Iridize) and help users to stay engaged with the task at hand.

In some cases, especially in older knowledgebase platforms – search capabilities are less than optimal. As such, Iridize's search functions can improve the searching experience and get users what they're looking for faster.