Export Guide to PDF: Instantly Create a Knowledge-base
This feature has been received with such delight and excitement, we almost feel bad we didn't think of it earlier: export your guides to PDF/HTML with a click and create an instant static help center.
Also good for backing up your guides.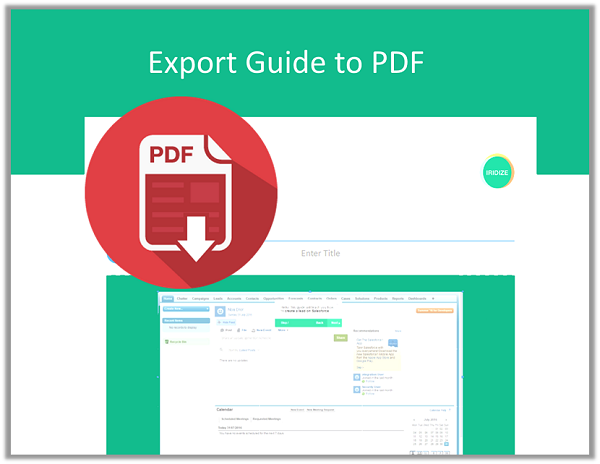 This means your guides can be:
Available offline
Accessible in PDF or HTML
You will have screenshots of the product which you can embed in your wiki/knowledgebase/support documentation
We know that in addition to live and interactive help, documentation teams and users often depend on static help that is offline and off-app. We made it so you wouldn't have to work twice to create your body of documentation, rather you can create your live guides on Iridize and then simply export them onto a static platform.
How does it work?
Essentially, the feature allows you to screen-capture every step in the guide. The screenshot will include any visual elements you have already added to the live guide, like overlays, highlights, tooltips, etc. How is this helpful? You won't have to edit or apply graphic elements to the screenshot manually.
Automatic Screencapture
The easiest way to go about this is to simply check the Automatic screen shot check box in your editor. Iridize will automatically capture every step in your guide, full-screen included. In case of a Branched Guide, both paths will be displayed one after the other.
What happens if I forgot to check the Automatic Screenshot Capture box? Will I be doomed to create the entire guide from scratch?
Goodness, no. You can simply return to the beginning of your guide, check the box and run the guide. All your screens will be captured.
Manual Screencapture
In case you don't need to capture an entire guide or want to re-arrange the static guide afterwards – you can always capture screens manually, using the camera icon right below the Editor's content box:
What about branched guides?
If your guide is a branched guide presenting more than one option, you can auto-capture the guide with one branch and then manually capture the other branch. Those screens will be exported separately and you will need to embed them in the final PDF version.
Exporting a Guide
When you are done screen-capping everything you need from the guide, click the export button at the top of your editor and watch the magic happen.
The guide gets exported into HTML, where you can provide a title (above screenshot) and additional explanation (below screenshot) to each screen.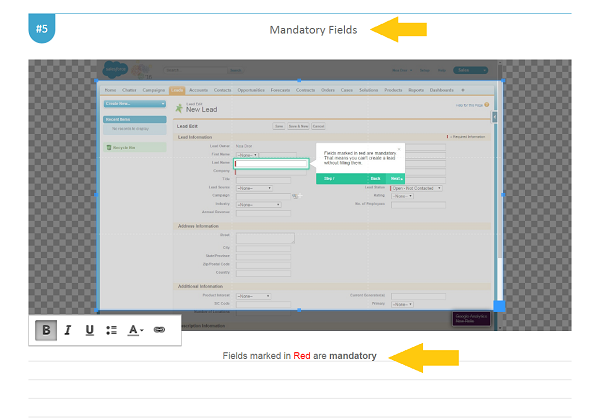 And, well, you know the rest:
Read more on the feature and how to troubleshoot in the knowledgebase article.